Posted by Chris Wieczorek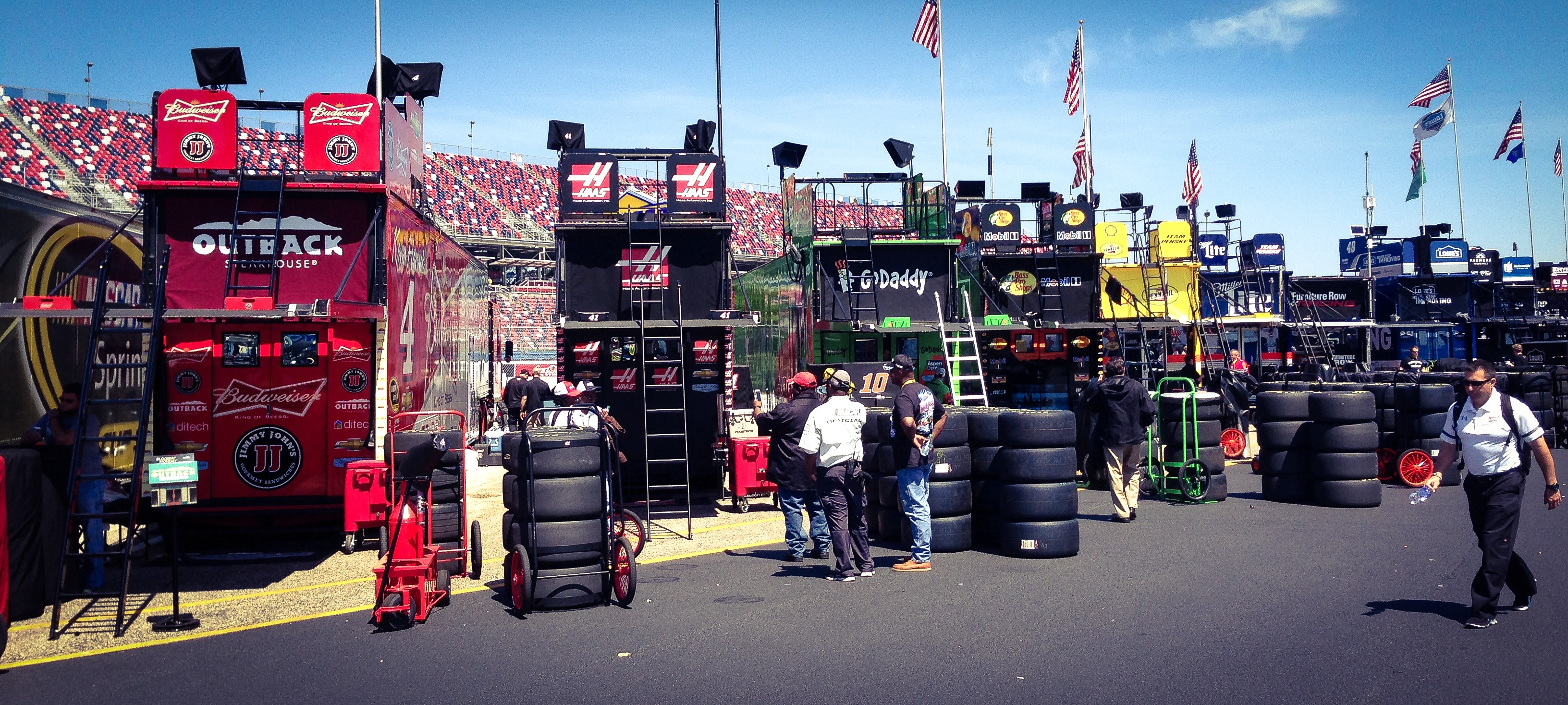 So, Kelly Hudson called me last Wednesday. We got to talking about the Marathon MTB National Championships to be held May 2nd. A lot of our team had been planning to go as were Kelly and I. I asked if he was still planning to.

Kelly: "Naw man…I'm gonna ride in Alabama with Jimmie and Christian Vande Velde. They doing a group ride from the Talladega track and NBC Sports will be there filming for a NASCAR and Tour de France promo."

Me: "Wait what? WTF, really? Man, you guys have all the fun..."

Kelly: "You ready to race nats?"

Me: "Not really…still not healed up. (I got hit by a car in March and was sick for a week recently) I'd rather not do it to be honest. I'd rather just do some fun riding around here. Shoot maybe I'll drive down and ride with you all."

Kelly: "Do it! That would be great; Jimmie would really like to have some more of the team there. You gotta bring the MTB though."

Me: "Oh I would…It's all I have, haha! Maybe I'll drive down Friday and ride with you then too."

Kelly: "You're off Friday?"

Me: "Yea, I was going to nats early."

Kelly: "Shoot, we might have room in the plane for ya. Fly with us Friday, ride Friday and Saturday and go the race Sunday. Then we all fly back Sunday once Jimmie is done."

Me: "Really? That would be bad ass man! That sounds way more fun than getting my assed kicked in GA and suffering for 4 hours. I'm in! Let me know for sure."

Kelly called me the next day and said we're all set. Really? Boy my weekend really changed quickly and it was looking much, much better. So, Friday morning I rolled up to the Concord airport to meet Kelly and Scott Amadon. We packed the plane with our gear and bikes and we took off as soon as Jimmie got there. It was a cool, fast flight to Talladega and it was fun to just hang out and talk everything from bikes to car racing to…whatever. Once we got there Jimmie took off right away for practice while Kelly, Scott and I unloaded our gear and raced off for a late breakfast.

Kelly: "Crakerbarrel or IHOP?"

Me: "Uh, yea…that's cool."

I see where this is going. Nutritional diet = dead on arrival. It's all good; I embraced it. Hell, I kinda felt on vacation anyway and I wasn't racing, right?

Me: "You getting livermush, Bone?"

Kelly: "Heck yea, of course but it's not on the menu. Do you all have livermush?"

Server: "What's that?"

Seriously? We're in Alabama. I guess it's not a deep south thing. We started talking about the ride on tap for the next day and it sounded like a tough one. 65miles and over 6000ft of elevation gain. Oh…maybe I need to eat some decent stuff. The mountain bike sounded very heavy as we left IHOP and I tried not to fall into a carb coma on the way to the hotel.

Well, what do the pilots of Jimmie's plane do when they get him to the track and the plane is parked? Ride of course. That was the next thing on the agenda. Kevin Brown from our team drove down to meet us. He would have flown but he had to be back Saturday night. The four of us got in a quick "easy" (not quite) 30miles on a cool greenway near the hotel. Then it was time for a quick bite before we were to meet up with Jimmie and some other crew and drivers for another 30 from the track that night about 6. Lonnie Clouse, Josh Wise (98 car driver), Jimmie and Sean Kerlin were just a few what showed for the ride.




We rolled right from the track and I got a strange feeling we were very much out of place…sorta like Alice in wonderland. I mean, here we are at Talladega. Fans are everywhere in the infield getting seriously drunk, eating terrible food and attempting to play various lawn games while we roll past them in lycra and skinny bikes (well, at least I had a MTB). Let's just say these two things typically don't go together and I half expected a bit of heckling. But just the opposite happened. Most people were very nice and basically ignored us…except when we came back from the ride. I think by then some people caught on because they were pointing and saying things like "No way…on the bicycle?" quite a lot. People were being recognized in our group and I'm pretty sure they're not fans of MTB racing in Charlotte, so that counts Kelly and me out.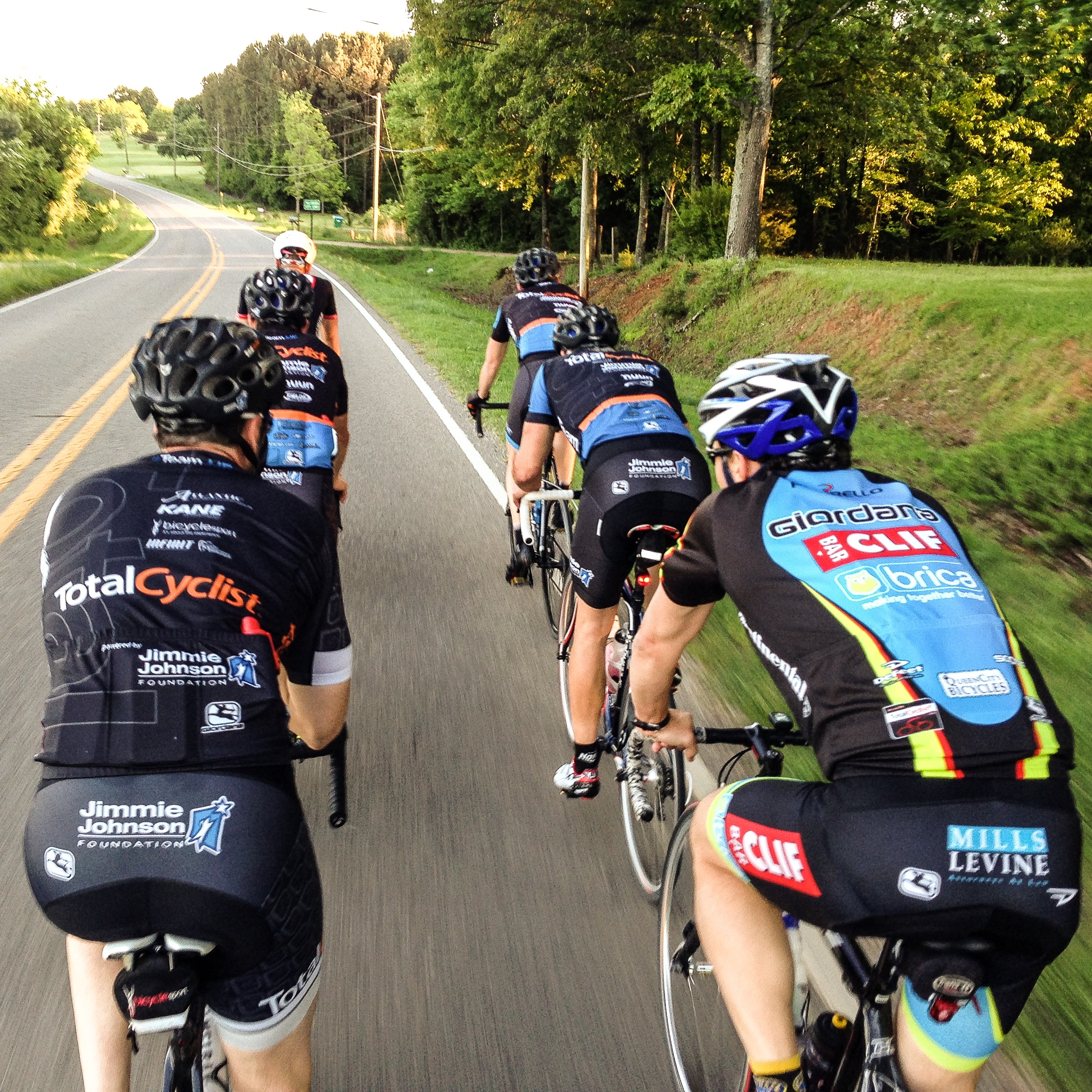 The next day we met up with Chad Andrews, founder of TotalCyclist and hung at the track and with Jimmie in the morning before qualifying. We had a little lunch and about 2pm hooked up with drivers, crew and a few others including Christian Vande Velde for the group ride. NBC Sports was fully there with a few cameras as we rolled out. They worked hard to get some good shots of Jimmie and Christian as they plan to do a TV spot about NASCAR and the Tour later in the year.




I'd say the first hour or so was uneventful and pretty slow but once we got to Cheaha State Park it got a bit edgy. A few guys including Sean Kerlin, Jamie Turski, Josh Wise and I got a way on the steep climbs. I simply followed and settled in for a long climb expecting to get dropped any moment. I didn't though and after a miles and a couple of steep pitches it was just Jamie, Josh and me. These boys put the hammer down and paced hard all the way to the top of Cheaha Mountain. Good steep climbing just the way I like it! The group all came back together at the top and stood for a photo and a little fan sighting.



The ride continued with some screaming fast descents of 50+MPH and I struggled to stay in contact. The knobbies were rolling in the corners and I was not feeling like leaving a bunch of skin in AL. Steep pitches were all around and the group was feeling it. By then my kit had become fully salted from all the sweating. Heck, at least I was fresh and had electrolytes in my system! We ended the ride at Mellow Mushroom for an awesome meal.


So, I gotta say this was one of the most enjoyable rides I've ever done, hands down. It's not because of the cameras or the presence of some famous people or even how we got there. Honestly, it's because everyone there was super cool and just wanted to ride bikes. No one seemed like anything other than a cyclist and a respectful and down to earth one at that. In a way it was like all the other group rides I've been on for the last 20 years, but it was better. Everyone became friends very quickly and it was just a blast riding two up with anyone in the group. It could have been Kelly, Jimmie or someone I didn't know at all. It was serious fun for sure and very much why I continue to ride. Simply fun…though I could have used a bit more dirt.




Thanks a ton to everyone on the ride! I toughly enjoyed riding with each of you and hope to do it again soon! - Chris