It always seems like the time between Thanksgiving and Christmas flies by! The TotalCyclistMTB team has been busy hitting the trails when the weather and time allows and
TotalCyclist
#Paincave to get some indoor sessions in as well. So lets recap some of the happenings from the past few weeks.
Back on December 7th team member Kelly Hudson ventured down to Harbison State Forest in Columbia, SC for the annual
Rudolph's Rampage Mountain Bike race
. Kelly came home with a 2nd place finish in the CAT 1 division with a very strong effort!! Congrats K-Bone....Digging!!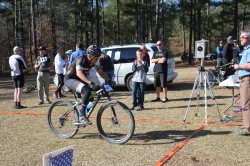 On December 13th & 14th team member Mike Tam competed in the
North Carolina Cyclocross
events held in Hendersonville, NC. Mike competed in the Mens CX4/5 division which had over 40 entries for day 1 and over 35 for day 2. In a strong field Mike was able to bring home a very solid 12th pace finish for day one and stepped it up to 8th on day 2. Congrats Mike!
As for the rest of the team we have been getting in some good team rides and long base building sessions! And when the weather is not on our side we are hitting the roads & #paincave and getting some work in! If you haven't had the pleasure of joining an indoor session at TotalCyclist you owe it to your self to give it a rip! It might make you Fast.......
So on behalf of all the TotalCyclistMTB team we want to wish you a Happy Holidays and see you on the trails soon!!